Norton
Regular price
$124.99
Sale price
$69.00
Unit price
per
44% Off | Save $55.99
Sold out
SKU:21432802
Share
View full details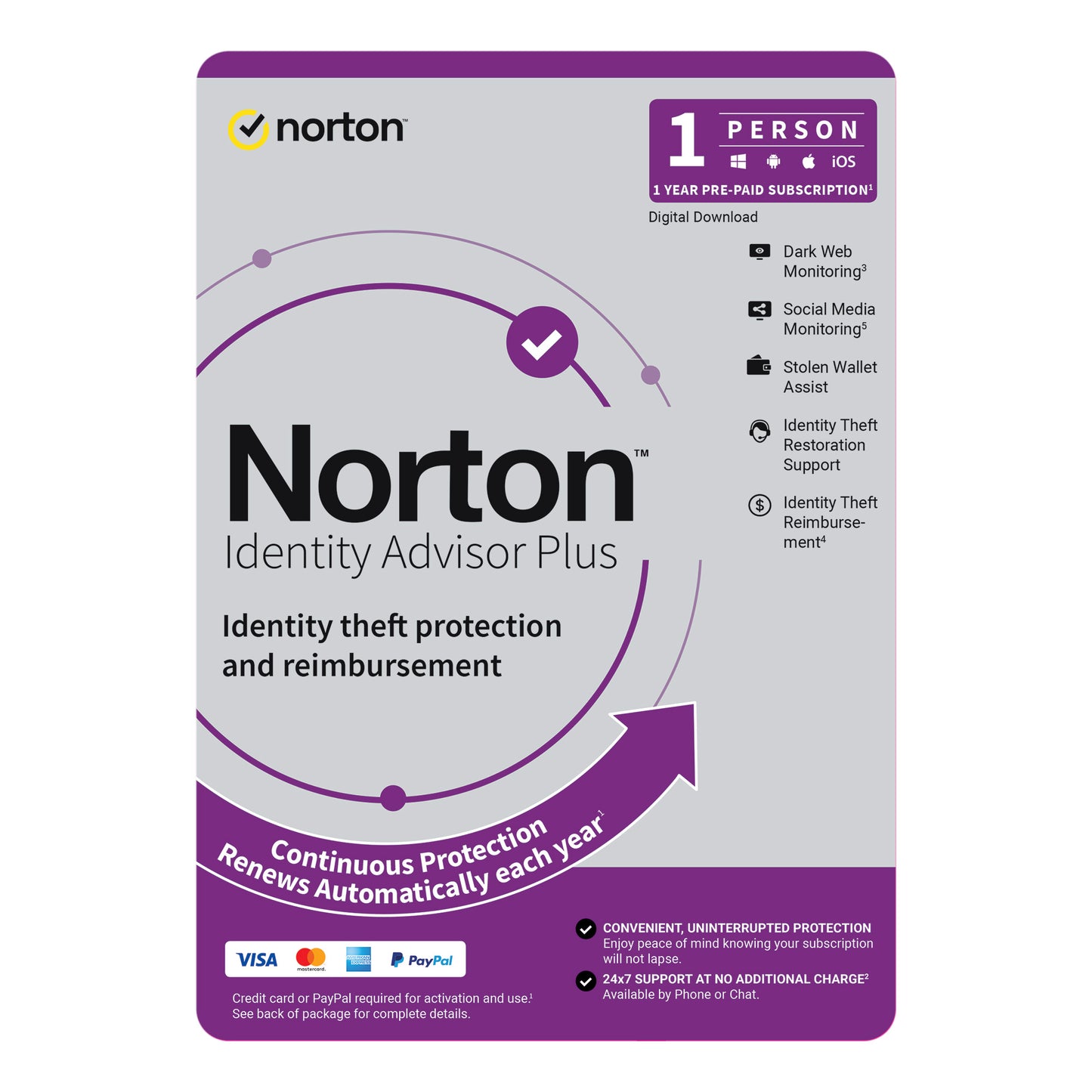 Help with identity theft starts here.
Help with identity theft starts here. Monitors and alerts with Dark Web Monitoring§ and Social Media Monitoring17.
Includes Restoration Support and Identity theft insurance with coverage19 for specific losses and expenses in case of identity theft.
What is identity theft?
Identity theft is when thieves steal your personal information in order to take over or open new accounts, rent or buy properties, or do other criminal things in your name.
How identity theft can happen and how your information can be used.
Data breaches. If the companies you do business with store your personal information - even a huge insurance or medical corporation - your identity could be compromised in a large-scale data breach.
ATM overlays. If thieves could install these devices at ATM machines to steal your account information when you insert your card.
Malware & viruses. With the number of viruses, your computer and your information can be hacked through websites, Internet programs or file-sharing networks allowing thieves to access your private personal information.
Mail theft. Thieves can steal mail directly from unlocked and low visibility mailboxes, enabling them to access your personal information from bills, statements, etc.
Dumpster Diving. Thieves will sort through garbage to find old bills, recent receipts and other discarded personal information.
Change of address. Thieves can change your address and divert your mail into the wrong hands.
Drain accounts. Under your name, thieves can withdraw money or make major purchases like a house or car while you're struck with the bill.
Open new accounts. Thieves can open accounts for credit cards, loans, utility accounts and more in order to make purchases or steal funds. These accounts may not be detected for a year or more.
How Norton Identity Advisor Plus helps:
Identity Restoration Support. An Identity Restoration Specialist will help guide you through the restoration process from start to finish.
Dark Web Monitoring.§ Dark Web Monitoring§ continuously searches the dark web and private forums looking for personal information and sends you notifications should it be found.
Social Media Monitoring.17 Norton monitors your accounts on popular social media sites and notifies you of suspicious activity.
Stolen Wallet Assist. A stolen wallet could mean a stolen identity. If your wallet is stolen you can call Norton and Norton agents will guide you to cancel or replace credit cards, bank cards, driver's licence and other cards.
Identity Theft Insurance. Provides coverage for specific losses and expenses related to identity theft in your name, including legal expense reimbursement and lost income for time away from work to correct financial records.19
Identity Theft Insurance Coverage19
Provides coverage for covered expenses and losses related to identity theft, including financial loss and legal fees (combined cover of up to $58k):
Up to $25k legal expense reimbursement
Up to $25k obligation to pay cover
Up to $3k for lost income
Up to $5k for miscellaneous expenses
Covered expenses (stated in Australian dollars) includes legal expense reimbursement for up to $25k, an additional $25k for Obligation to Pay related to credit and loan accounts opened in your name without your authorisation. Includes $3k for lost income reimbursement associated with correcting financial records related to the identity theft. An additional $5k is available for miscellaneous expense reimbursement associated with the incident.
How does an Identity Restoration Specialist help?
In case of identity theft, your Identity Restoration Specialist will help guide you through the restoration process from start to finish. The steps that will be taken:
Call the dedicated local Restoration Support number to inform Norton about the potential identity theft.
An Identity Restoration Specialist will gather the information and open a restoration case.
Your dedicated Identity Restoration Specialist will walk you through the next steps.
As needed to resolve your case, your Identity Restoration Specialist can help guide you on how to resolve disputes with relevant parties.
Your Identity Restoration Specialist will be dedicated to you case, and will support you step-by-step until your case is closed.
System Requirements
Norton Identity Advisor Plus for 1 account - App and website accessible on unlimited devices
For Windows PC and Mac
Browser Support
Chrome v49 and above
Edge v17 and above
Firefox v51 and above
Opera v36 and above
Safari v11 and above
App Support
iOS 13.0 and above
Android 8 and above
* Important Subscription, Pricing and Offer Details:

Contract Type: contract for a monthly or annual subscription, starting when the transaction is complete. Click here for the Terms of Sale.
Set-up: to get the protection/service started, you must download and install it on each device and/or complete the set-up.
Trial: payment method required if signing up for a trial (credit/debit card or PayPal only). When the trial ends, the paid subscription starts, and the first term is charged unless cancelled before. Offer(s) may expire.
Renewal Cycle: automatically renews each month or each year after the initial term unless the subscription renewal is cancelled before the day you are due to be charged to your account or by contacting support here. Click here to learn how.
Renewal Prices: may be higher than the price for the initial term and are subject to change. Renewal prices can be found here. For annual subscriptions, they are charged up to 35 days before the subscription is due to renew, and Norton send you a notification email with the renewal price before.
Cancellation & Refund: you can cancel any of your contracts and request a full refund within 60 days of purchase for annual subscriptions and within 14 days of purchase for monthly subscriptions. For each annual renewal or trials with paid annual subscription, you can request a full refund within 60 days of being charged. For trials with paid monthly subscription, you can request a full refund within 14 days of being charged. For details, visit Cancellation & Refund Policy. To cancel your contract or request a refund, click here.
Updates: your subscription may include product, service and/or protection updates, and features that may be added, modified, or removed, subject to the acceptance of the License & Services Agreement.
Usage: for non-commercial household use only. If you have issues adding a device, please contact support.
No one can prevent all cybercrime or identity theft.
17 Does not include monitoring of chats or direct messages. May not identify cyberbullying, explicit or illegal content or hate speech. Social Media Monitoring is only available on Facebook, Instagram, LinkedIn, Twitter and YouTube. On Facebook, Instagram, and LinkedIn, only account takeover feature is available.
19 Terms, conditions, exclusions and limitations apply. See the Identity Theft Insurance Australia Policy Information Booklet found at  https://www.nortonlifelock.com/au/en/legal/  for details. Coverage provided by AIG Australia Limited AFSL 381686 (AIG). NortonLifeLock Australia Pty Ltd (Norton) act as a group purchasing body in acquiring and arranging the insurance coverage under a group policy issued by AIG to Norton.
Norton does not hold an Australian financial services licence. Please obtain your own financial product advice about Norton services and consider the policy information booklet to determine if the coverage is right for you.
§ Dark Web Monitoring is not available in all countries. Monitored information varies based on country of residence or choice of plan. It defaults to monitor your email address and begins immediately. Sign in to your account to enter more information for monitoring.
Δ 24/7 Support is available in English only. See https://www.norton.com/globalsupport. Identity Restoration Support is only available 9:00 - 18:00 GMT (Mon-Fri), as they are not available 24/7.
The Norton brand is part of NortonLifeLock Inc.
Customer Satisfaction
Check out some recent reviews and customer experiences shared on Trustpilot
Enquire about this product including its specification, customisation options and stock availability