Norton
Regular price
$99.99
Sale price
$53.00
Unit price
per
46% Off | Save $46.99
Sold out
SKU:21432776
Share
View full details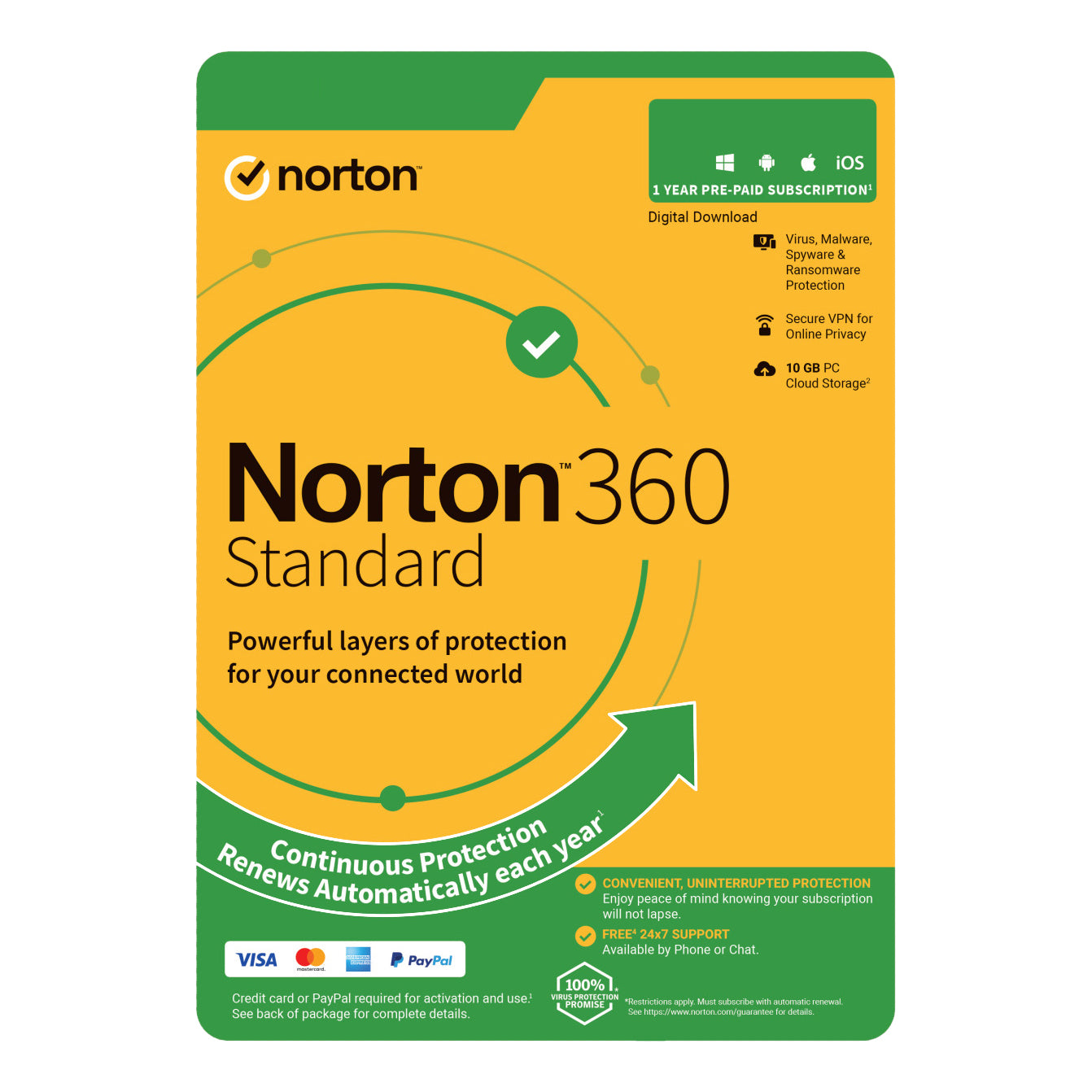 Choose to be safer online.
Norton 360 Standard provides powerful layers of protection for your devices and online privacy against viruses, ransomware, and other online threats as you bank, shop and post online.
Your personal information has protection at home or on the go with bank-grade encryption from Norton Secure VPN. It helps prevent cybercriminals from accessing your personal information when connecting to Wi-Fi, even public Wi-Fi.
Device Security. Norton Device Security brings real-time protection for your PCs, Mac, smartphones or tablets against ransomware, viruses, spyware, malware and other online threats, monitors and helps block unauthorised traffic and helps protect your private and financial information when you go online.
Secure VPN. Norton 360 Standard gives you the freedom to connect more securely to Wi-Fi when on the go. With a single click, Secure VPN gives you the power to secure your data each time you go online, even with public Wi-Fi. Your personal information is encrypted, helping prevent cyber criminals from intercepting your data over Wi-Fi and gaining access to your valuable, personal information.
Password Manager. Easily create, store, and manage your passwords, credit card information and other credentials online - more securely.
PC Cloud Backup. Automatic1 cloud backup for PCs - to store important files and documents as a preventative measure against hard drive failures, stolen devices and even ransomware.
PC SafeCam. The webcam on your PC could be vulnerable to hacking. Get notified if cybercriminals try to use your webcam, and we can help block them.
System Requirements
See https://www.norton.com/sysreq for the most up-to-date system requirements.
Legal Disclaimer
1 Requires your device to have an Internet/data plan and be turned on.
No one can prevent all cybercrime or identity theft.
NortonLifeLock, the NortonLifeLock Logo, the Checkmark Logo, Norton, LifeLock, and the LockMan Logo are trademarks or registered trademarks of NortonLifeLock Inc. or its affiliates in the United States and other countries. Other names may be trademarks of their respective owners. NortonLifeLock Inc. is a global leader dedicated to providing consumer Cyber Safety. The Norton brand is part of NortonLifeLock Inc.
Customer Satisfaction
Check out some recent reviews and customer experiences shared on Trustpilot
Enquire about this product including its specification, customisation options and stock availability