Norton
Regular price
$69.99
Sale price
$49.00
Unit price
per
29% Off | Save $20.99
Sold out
SKU:21443978
Share
View full details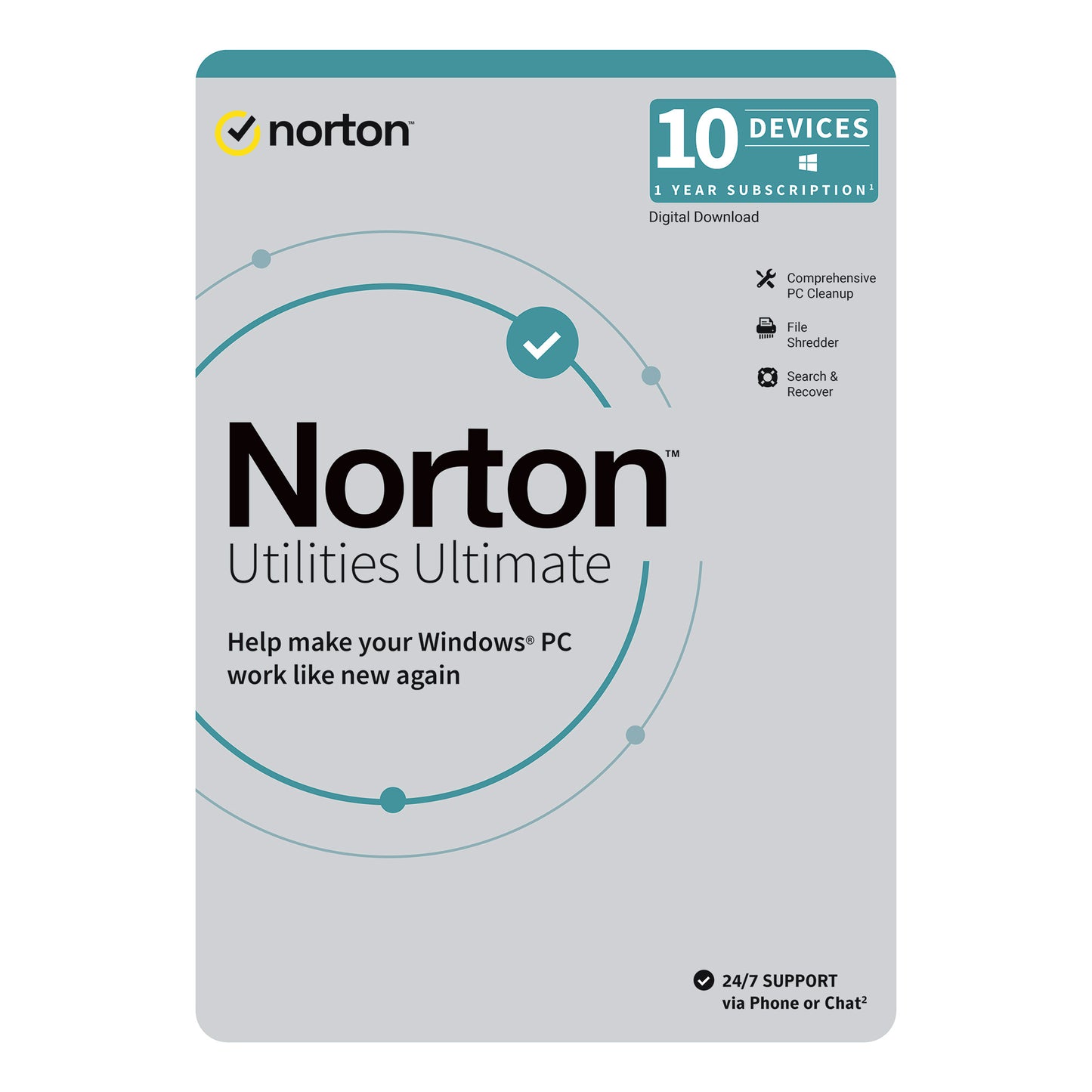 Get your Windows computer running like new again
Transform your Windows computer with the cutting-edge cleaner and optimizer tool, rejuvenating its performance. Embrace a swifter, spotless, and trustworthy computing experience right away.
Processes. Turn off programs that run automatically in the background to stop them from slowing down your PC at startup and impacting the speed and performance of your daily tasks.
System Junk. Over time, your Windows system and the apps generate obsolete files that steal your disk space. You can get rid of this system junk, even pesky leftover files that remain after you uninstall an app.
Uninstaller. Identify unnecessary and unwanted software clogging up your Windows PC that you can easily uninstall to enjoy more space for the applications you actually use.
Uninstall Simulator. You can use the Uninstall simulator to see what the impact would be on your PC if you were to uninstall a particular app.
Automatic Cleaning. Schedule regular Windows PC cleaning to automatically remove system junk and browser data. Set it up once, then relax, knowing that we've got you covered, keeping your PC tidy.
Browser Data. Your browser keeps records of where you go and what you do online. By cleaning your browser data, you make it harder for others to track your online activity.
Free up your Windows PC's capacity with superior cleaning
Bid farewell to chaotic hard drives and system clutter. Liberate valuable storage space by eradicating redundant files and applications from your Windows computer, ensuring a seamless and organized digital environment.
Increase the speed and performance of your Windows PC
Unleash the full potential of your PC by eliminating bloatware and unnecessary background applications that hinder its performance. Optimize your computer's functionality by disabling resource-intensive processes, uninstalling obsolete programs, and resolving common issues affecting your hard drive, software, and Windows system. Experience a streamlined and efficient computing experience like never before.
Keep your Windows PC healthy and performing at its best for longer
Without proper maintenance, computers gradually decline in performance over time. Ensure the longevity and optimal efficiency of your system with automated PC cleaning and optimization tasks. Experience a healthier, more robust computer that retains its peak performance for an extended duration.
Minimum Microsoft Windows OS Requirements
Windows fully compatible PC with Intel Pentium 4 / AMD Athlon 64 processor or above (must support SSE3 instructions)
1 GB RAM or above
Windows™ Operating Systems
Microsoft Windows 7 (all versions) with Service Pack 1 (SP 1) or later.
Microsoft Windows 8/8.1 (all versions). except for Windows 8 Start screen.
Microsoft Windows™ 10 (all versions), except Windows 10 on Arm, in S mode, Mixed Reality, Mobile, IoT, Starter, and RT editions.
Microsoft Windows™ 11 (all versions), except Windows 11 on Arm, in S mode, Mixed Reality, Mobile, IoT, Starter, and RT editions.
Additional Hardware Requirements
1 GB of available hard disk space
Optimal standard screen resolution no less than 1024 x 768 pixels
Internet connection (to activate the product and receive product updates).
Customer Satisfaction
Check out some recent reviews and customer experiences shared on Trustpilot
Enquire about this product including its specification, customisation options and stock availability